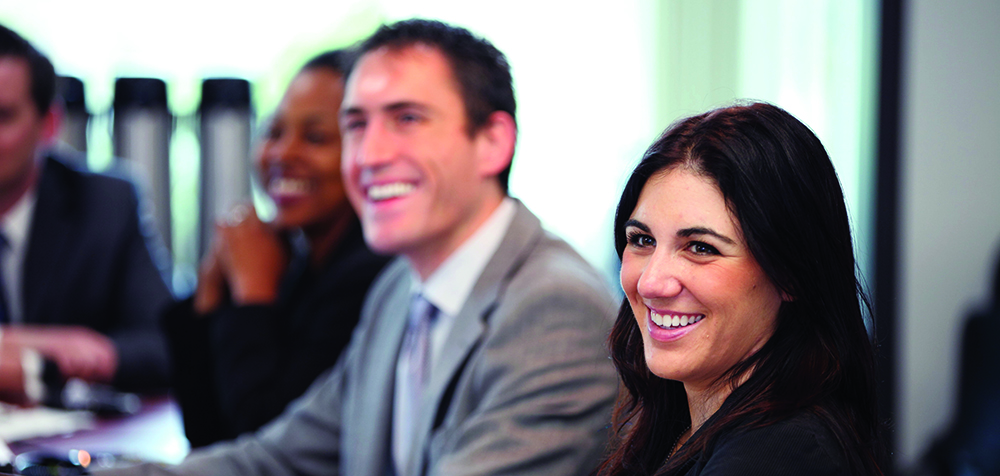 LMU Executive Education + Raytheon
Through our partnership, LMU College of Business Administration offers this custom certificate course for Raytheon employees who meet eligibility requirements:
Power Presenter-Online
LMU Course Number: EXECED 6010
Continuing Education Units: 3
Instructor: Larry Haas
Course price: $5,938
Upcoming Online Courses
Tuesdays | 4:30 - 6:45 p.m. PT | May 3 - June 7, 2022
Important Information to Note
Classes are synchronous and require participation in real time. You must be able to attend the classes during the dates and times stated.
A device with a camera, microphone and audio source is required to take this online class.
After registering with LMU and through EA/RTX, LMU will send you the login instructions before the first class.
A customized e-binder is included with the course and will be sent in PDF format prior to classes starting.
Students are required to provide Raytheon's enrollment voucher to the professor by the first class.
Course can be dropped/added five business days from the start of the first class.
In the event an unforeseen major life event, such as a death in the family or a severe illness, precludes a student from attending class sessions, the student may email LMU's Executive Education office at ExecEd@lmu.edu, explain the situation and request in writing to take the course at a later date. No refunds will be issued.
For questions, contact LMU Executive Education at ExecEd@lmu.edu.


**You must register in two places - through EA/RTX as an "Individual Course" as well as using the register button below.**
Course Overview
Become a Power Presenter™ both on stage and online by upgrading your technical presentation skills! Learn how to powerfully and effectively communicate with both technical and non-technical audiences utilizing a range of video and non-video modalities.
This course is an intensive, six-session, 12-hour workshop-based program designed to help technical professionals become relatable, powerful communicators on stage and on-line in front of practically any audience. It is different from typical speaking training in that it focuses on technical leaders achieving critical business outcomes while avoiding the many mistakes often made when communicating highly technical information typical in an Aerospace and Defense setting. Note: prior to the first session, a 30-minute "tech check" will be scheduled to address relevant technology requirements and functionality for each student.
Designed to meet the needs of new hires through executives, Power Presenter combines light lecture with rich and meaningful discussion, speaking practice and group evaluation for each student each session. The course has a track record of creating for students a strikingly noticeable improvement in speaking credibility and confidence in a short period of time.
A Recent Student Reported:
Thank you again for all you taught us during this class. Since then, I've had to give several presentations to program management, program systems engineers, the program chief engineer, and customer representatives. I relied on the skills I had learned in your class, which definitely helped boost my confidence and helped me to communicate effectively! The presentations were very successful, and I was able to achieve my objective(s).
Course Details
Power Presenter consists of six sessions, each 2 hours and 15 minutes in length broken up into 5-7-minute chunks (in accordance with online best practices) with homework in between sessions. Homework consists of researching and preparing materials such as visuals and practicing before speaking live (using various modalities) in the following session.
A typical session consists of a 15-minute group discussion on a specific "confidence builder" topic (such as why conduct an advance technical walk-thru), followed by student presentations and group feedback. The session ends with a 20-minute workshop to explore new content supporting the homework assignment for the following session.
The six sessions consist of:
Session 1
Lecture: Course Introduction and Presentation Fundamentals
Presentation Topic: Personal Introduction|
Homework: Prepare personal value proposition
Session 2
Presentation Topic: Personal Value Proposition
Lecture: Audience Analysis
Homework: Prepare audience analysis on an important work-related audience
Session 3
Presentation Topic: Audience Analysis
Lecture: Developing Your Presentation
Homework: Developing your presentation flow for an actual work-related presentation
Session 4
Presentation Topic: Your Presentation Flow
Lecture: Delivery Insanity – topics are appearance, voice, posture, movement, and eye contact.
Homework: Gather feedback to determine area of delivery most needing improvement
Session 5
Presentation Topic: Delivery Insanity (a series of fun, physically-oriented drills to get students out of their comfort zones around their primary area of improvement)
Lecture: Handling Questions and Answers, and Managing Distractions
Homework: Prepare "My Personal Power Presenter Journey and Future Areas of Focus"
Session 6
Presentation Topic: My Personal Journey with Q&A, and Handling Distractions
Lecture: Course Wrap Up, Presentation of Certificates
Homework: N/A
For questions, contact LMU Executive Education at ExecEd@lmu.edu.